Half of the population goes through menopause, yet it doesn't ever get any easier. But some people are now turning towards CBD to improve their wellbeing during this time. Read on to find out why.
Menopause is a natural occurrence that half of the populations has to deal with as they age. 
It is when the menstrual period stops permanently, and means they can no longer conceive a baby. 
Typically, this occurs between the ages of 45 and 55.
The age of the onset of menopause differs from person to person.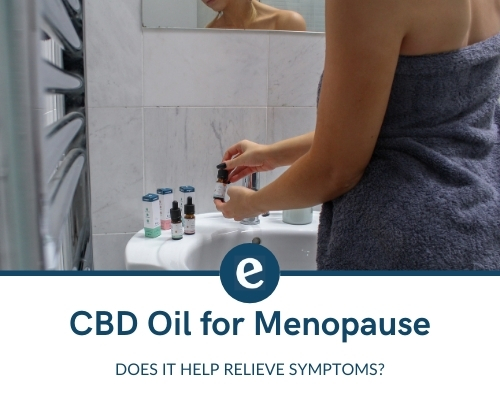 Sometimes, it can happen earlier or later, depending on their health condition and needs.
If you're looking to promote general wellness and restore balance due to your symptoms, you may be interested in the restorative properties of CBD oil.
In this guide, we will cover:
What is menopause

How

CBD oil

could help with menopause

How to use CBD oil for menopause

The best CBD oil for menopause
Most symptoms involve hot flushes, restlessness, anxiety, night sweats, and vaginal irritation. 
The severity and types of symptoms depend on the person. 
Some people may have fewer symptoms or issues than others. 
Today, we will share with you all the details you need to know about CBD oil for menopause – let's get into it.
What is Menopause?
Menopause is a natural cycle of every woman's life. It can happen earlier to some people and later to others. 
Age is the key factor that contributes to the onset of menopause. 
When a woman experiences menopause, the ovaries stop producing reproductive hormones. This means periods will become irregular and eventually stop. 
As a result, they will no longer be able to conceive. 
Sometimes menopause can last years. For some people, it can take 1 year, but in some cases, they can experience symptoms for up to 10 or 15 years. 
Can CBD Oil Help With Menopause?
CBD interacts with the endocannabinoid system (ECS). This system involves cell receptors which influence certain aspects of the body. 
These receptors are better known as cannabinoid receptors, which help regulate:
Mood
Pain
Sleep
Memory
Fertility
Temperature
All of these things are affected during menopause. 
As a result, it would make sense to assume that CBD may help restore balance during this time because of the way it interacts with the endocannabinoid system.
It is important to recognise that CBD oil cannot be used to treat menopause nor eliminate the symptoms. 
Instead, it can only be used to aid and restore balance, which can improve your quality of life when experiencing menopause.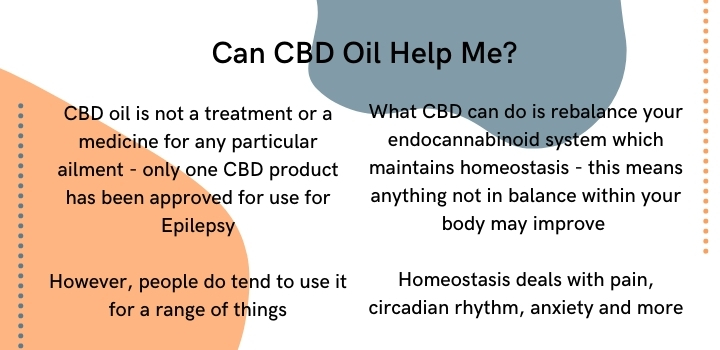 Why Should You Be Wary of Companies Selling CBD Oil For Menopause?
CBD is not a medicine or treatment and should not be used to treat any ailment. 
Instead, you should use CBD oil as a supplement. 
In the same way, vitamin C and vitamin D work to aid and promote better wellness, CBD can do the same. CBD oil can work to restore balance. 
Many companies claim to be able to treat ailments with their CBD oil, which is not true. 
You should be wary of any company that claims to be able to treat menopause, because they are lying to you about the capabilities of CBD oil.
Instead, CBD oil can help attain natural homeostasis. 
As time goes on, this may change because more and more research is being carried out daily about the properties of cannabinoids – but for now, it is only recommended to use CBD as a supplement.
How Does CBD Oil Work?
CBD is a chemical compound found in the hemp plant. Unlike THC, it does not offer or result in psychoactive effects such as feeling 'high'. 
In CBD oil products, there are also often a number of other cannabinoids which have important properties.
Instead, CBD works in close connection with the endocannabinoid system to promote wellness and wellbeing as well as restore balance.
To achieve a normal state of homeostasis, the body needs to be balanced and its natural processes need to be restored to regular working order. 
When this is achieved a person's mood, sleep, memory, and more can be balanced, meaning a person can achieve a better quality of life with normal homeostasis. 
When a person consumes CBD, the cannabinoids transmit signals to the brain through the ECS and its CB1 and CB2 receptors. 
They help your body and mind respond, which can therefore restore homeostasis and make menopause symptoms easier to manage.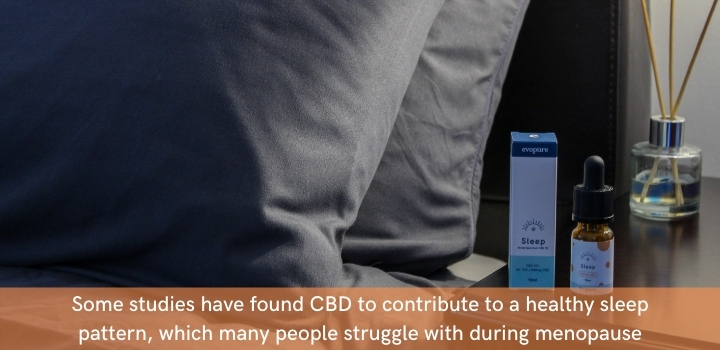 How Do You Use CBD Oil for Menopause?
There are several different types of CBD, which can benefit various medical concerns. Similarly, there are many ways in which you can use CBD.
How you take it is your choice. 
If you want some guidance, the following forms may be the most effective.
How to use CBD products will depend on the type you choose.
CBD oil drops are often the most effective. This is due to their bioavailability and ability to target receptors and cells, resulting in homeostasis. 
Every CBD users should stick to the recommended dosages on each product – but no upper limit has been found, so in theory you can take as much CBD as you like.
We wouldn't recommend this, though, because it is both expensive and may lead to some unpleasant side effects. 
Additionally, the science is limited in this area.
Newbies to CBD should start with a low dose of up to 10 or 20 mg per day. With experience and knowledge of how CBD products affect you, you can slowly increase the dosage. 
CBD affects people differently, so no two people will have the same results. 
It can depend on age, health, metabolic rate, and weight. 
Sublingual 
Oils are best used sublingually, which means they should be placed under your tongue for a minute or so to absorb quickly into the bloodstream. 
This method offers the highest bioavailability as the ingredients bypass the liver and directly enter the bloodstream. 
This offers quicker and longer-lasting results. 
Edible CBD
Consuming CBD through capsules and teas are an easy and natural way to integrate the ingredient into your lifestyle. 
It takes longer for CBD to be absorbed when being digested like food and drink, so maybe more suited to new users.
In addition, some people find the taste of CBD oil unpleasant.
You can even consume CBD oil through cooking and teas. You can make CBD brownies, CBD smoothies, and more. 
This means the taste of CBD is masked by the food or drink you're consuming it with.
However, the bioavailability with any form of edible CBD is lower because it has to be digested before being absorbed into the bloodstream. 
This means some of the CBD molecules are lost in the process.
Topical Balms and Creams
Topical creams may be best suited for localised issues that occur during menopause. 
By applying a cream to the area of concern the CBD balm becomes absorbed directly into the problem area.
When a person applies a topical CBD product, the cannabinoids will absorb into the skin and then into the bloodstream.
There is not a huge amount of research carried out into topical CBD and how well it works, as of now.
Vaping
Another common method for consuming CBD is through vaping. Bioavailability is high as it is directly consumed and enters into the bloodstream.
You can only vape specific CBD vape fluids, as CBD oil products will not work.
The quantities to use each product will vary. You should always check the labels and follow the instructions carefully.
Keeping your products in a cool, dark place can increase and maintain their efficacy. Ensuring the container is sealed and putting your CBD in the fridge is the best way to keep your CBD product fresh.
Storing your chosen CBD product to help manage menopausal symptoms will increase the longevity of the product, and therefore it's efficiency.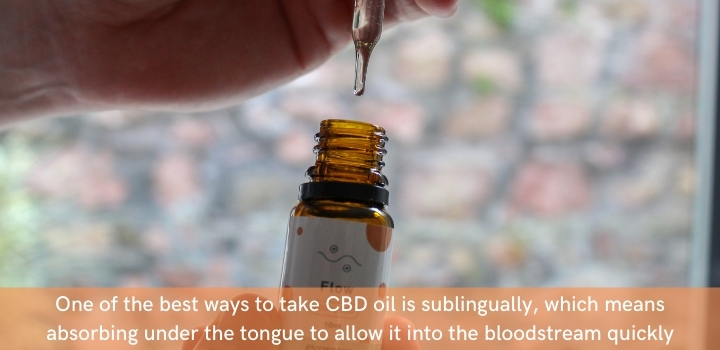 Which CBD Oil is Best?
With the CBD industry growing, many brands are manufacturing CBD products. 
Some are more effective and natural than others. 
Instead of finding the right, or most effective CBD product for restoring balance and promoting wellness, it is may worth deciding which brand is most reliable. 
Independent lab results
Brands that openly provide official laboratory results mean that the CBD product is certified as safe and legal. 
These results display how much CBD is in your product, where it's from and manufactured, and details of other ingredients – such as other cannabinoids, terpenes, and flavonoids. 
Brands that don't share their lab results are likely to be hiding something about their product.
Organic and natural CBD
Ensuring the brand you choose is ethical, organic, and sustainable will mean the product is safer and contains no pesticides. 
Natural CBD products may enhance the promotion of wellness and wellbeing, which can help improve the quality of life when a person is experiencing menopause.
Broad-spectrum CBD products
Broad-spectrum CBD products are full of other cannabinoids, flavonoids and terpenes which work together to provide overall greater benefits for the mind and body. 
Broad spectrum, compared to full-spectrum, has 0% THC content. Full-spectrum has trace amounts of THC which may add to the entourage effect, but may turn some people off.
The amount of THC in full-spectrum products is legal, but it may still make people uneasy.
Another type of product, called CBD isolate, is a completely pure form of cannabinoid product that contains only cannabidiol, as opposed to several like broad and full-spectrum CBD products do.
Capsules, teas and other CBD edibles may take longer to work because they first need to digest before being absorbed by the bloodstream. 
However, they may be a great option for new users and those who do not like the taste of CBD oil. 
Following this advice should hopefully mean you find the highest quality CBD product to help get through the menopause.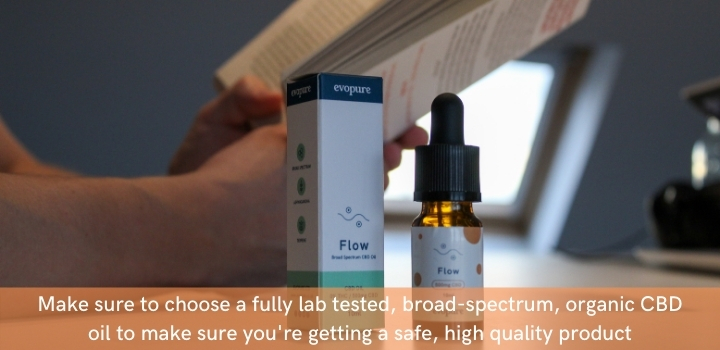 Final thoughts
CBD oil may help restore balance and promote wellness, which will improve a person's quality of life when experiencing menopause. 
Seeing as CBD can promote calm, balance cells, and enhance a person's health, symptoms that occur from menopause will be easier to manage and alleviate to some extent. 
Everyone's menopausal experience is different. 
Thus, different forms and consumption methods of CBD products will vary in preference from person to person. 
Download your FREE Buyers Guide for an introduction to CBD
If you found this CBD article useful, or are seeking more information before you take the plunge into your CBD oil journey, check out our other posts on our blog.