How many people use CBD oil? Why are people using it? How is the market expected to grow? Find out below.
It is not an exaggeration to say that the UK CBD industry has exploded in recent years. 
Increasing awareness around CBD oil coupled with changes to government regulations have seen the rapid development of the CBD industry worldwide.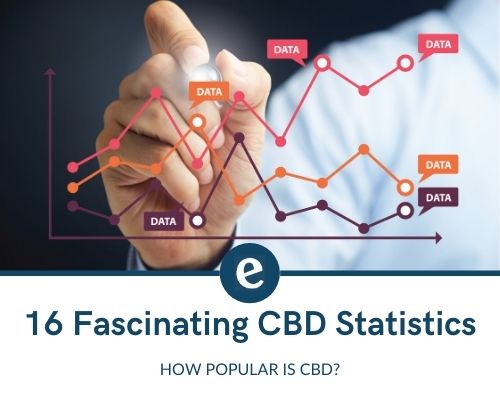 This is particularly true in the UK, which has seen phenomenal growth recently.
A little later in this post we're going to take a look at some of the jaw-dropping statistics which show just how much the UK CBD market has grown in the past couple of years. 
The number of Brits who are taking CBD will probably shock you!
What Makes CBD So Special?
CBD, Cannabidiol, is a type of cannabinoid or compound that is found in the cannabis plant. It has been used for centuries for promoting better general wellbeing.
Over much of the twentieth century, CBD was stigmatised by the general population. 
Even though commercial CBD products these days are generally extracted from hemp, confusion in the differences between the hemp vs marijuana plants meant that CBD was not commonly accepted, and was illegal in most parts of the world.
However, this changed with the legalisation of CBD products in the UK, the US and many other countries, and a flourishing CBD industry was born. 
Fortunately, people are learning about CBD and it is becoming not only more accepted, but increasingly popular – as demonstrated in the stats we'll discuss later.
But first, let's start with the basics.
Does CBD Oil Do Anything?
Before we get started with the trends and statistics of this fast-growing industry, let's take a look at some key CBD oil facts that will help us understand its growth better. 
However, here are the basic things you should know about CBD:
There are more than 100 cannabinoids found in cannabis, the two most famous being Cannabidiol (CBD) and Tetrahydrocannabinol (THC).
Unlike THC, CBD does not have any psychoactive or addictive properties.
Although it can be derived from either hemp or marijuana, CBD products are generally made from hemp, as this has a higher CBD content and minimal THC.
CBD can be made into consumable products such as tinctures, oils, edibles, creams, vapour, skin patches, and more.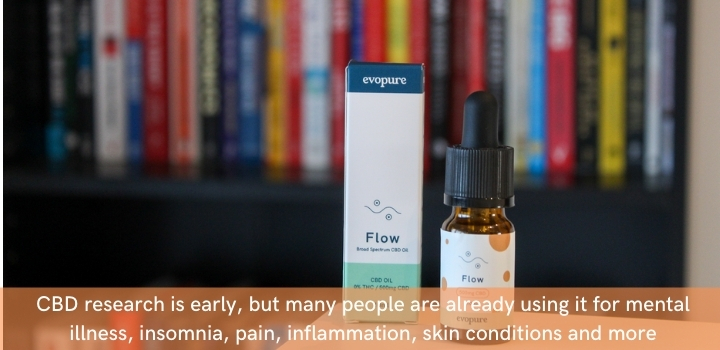 How Is The CBD Industry Gaining Support In The UK?
CBD sales statistics show a sharp spike in demand for CBD from UK consumers in the last few years. This demand has translated into significant CBD industry growth in the UK. 
Multiple signs suggest the demand is only set to increase in years to come.
The studies we cover below shows that CBD has a diverse presence in the British market with consumption patterns across different classes, ages, and industries. 
The UK CBD market has a wide range of highly profitable products.
UK Consumers are widely embracing CBD for its benefits, but some degree of stigma, not to mention misinformation remains. 
One of the major sources of confusion when it comes to CBD is its legal status. This goes back to the confusion between hemp and marijuana, and the laws allowing the sale of CBD in the UK were introduced relatively recently.
So let's take a closer look at the legal status of CBD in the UK.
Is CBD Legal in the UK?
UK law classifies pure CBD as legal in the country. It is not classified as a controlled or restricted substance. However, its production and sale is subject to tight regulation.
Only registered companies can produce CBD products and/or sell them in the UK. Additionally, these products must adhere to strict standards.
Specifically, for CBD products to be sold in the UK they must have no more than 0.2% THC content. 
Additionally, they must be produced via an EU-approved strain of industrial hemp: that is, extracted from a particular kind of hemp plant that has minimal THC.
These restrictions exist in order to protect the consumer, and also emphasize the importance of buying CBD products from a reputable brand.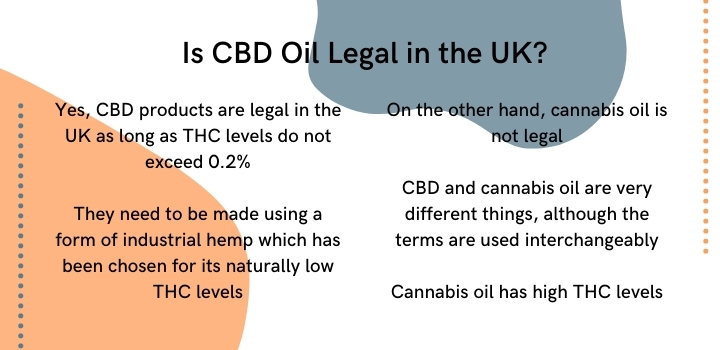 CBD Statistics UK
The UK-based Centre for Medicinal Cannabis (CMC) released the results of an extensive CBD market study in 2019. 
Its report "CBD in the UK: Towards a responsible, innovative and high-quality cannabidiol industry" contains a number of statistics based on market analysis and individual surveys reveal. 
They provide interesting insights into consumer behaviour, market trends and purity in the CBD industry.
UK CBD Statistics: Consumer Trends
The UK CBD industry has seen remarkable growth in recent years, which we'll dive into in the next section. However, first let's take a look at the people who are ultimately driving that growth with their purchasing power: UK CBD consumers.
1. Between 8 and 11% of UK adults use CBD
According to independent surveys conducted by YouGov and Dynata in 2019, between 8 and 11% of the adult population in the UK (around four to six million people) had consumed a CBD product in the last year.
2. 15% of 25-29 year olds use CBD
A 2019 Cowen & Co. consumer survey found that CBD is being used by a variety of different age groups. 
However, this percentage was higher in younger age groups, with 15% of 25-29 year olds having used a CBD product in the last 12 months, compared to 7% of 55-64 year olds and 8% of those aged 65 years and over.
3.   CBD Usage is Higher Among Females
This survey also found that women were more likely to use CBD, with 13% of females reporting to have used CBD in the past year, compared to 9% of male respondents.
4. Product contents and production method is the most important factor when buying CBD
The 2019 YouGov survey asked participants what they looked for when choosing a CBD product. 
They found that the highest proportion of respondents, 26%, said that they most valued clear product labelling about the contents and how the CBD was produced. 
The second highest priority, 15%, was consumption advice on how to use the product.
5. Buying local is also an important factor
The same study found that consumers also feel that being locally-sourced CBD is important. 11% of respondents said that whether a CBD product was derived from hemp grown in the British Isles was the most important factor influencing their choice. 
This came ahead of price at 10% and brand at just 7%.
6. 65% of the UK population supports open access to CBD
The Cowen & Co. survey also found that 65% of respondents thought CBD should be available for purchase either through pharmacies or high street stores: 34% support CBD being sold over the counter at pharmacies, while 31% were in favour of CBD products continuing to be available as a health supplement in high street stores and supermarkets.
On the other hand, 17% of participants thought CBD should be available by prescription only and just 5% thought it should not be available for sale in the UK at all until further research was conducted.
7. The main reasons people use CBD are for better wellbeing, sleep, pain management and anxiety
The study conducted by Dynata in 2019 showed that the most common reason cited by CBD users was to improve their overall health and wellbeing, followed by sleep, pain management and to ease anxiety.
Respondents in the poll gave their reasons for using CBD as follows:
Better health and wellbeing: 54%
To improve sleep: 54%
For pain management: 42%
As an aid to relaxation and anxiety: 38%
8. 24% of all adults prefer to manage their mental health with holistic remedies such as CBD
11.3 million UK citizens would choose holistic remedies to treat their mental health as a result of not trusting prescription medication for anxiety and depression, and concern that anti-anxiety and antidepressants would be too severe for their symptoms.
9. And a whopping 50% of millenials would prefer to use CBD oil over anti-depressants
This is great for the CBD industry, but concerning for the perception of anti-depressants and other prescription medication.
It seems people are favouring natural remedies over something that changes the way your body and mind works completely.
A reason for this could be the side effects of antidepressants which can be difficult to manage.
This could also be a sign that the benefits of CBD oil are being overstated before research has confirmed it can be used as a treatment for anything.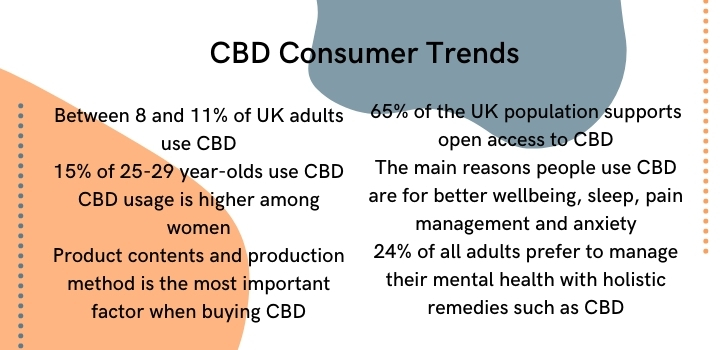 UK CBD Statistics: Market Trends
The CBD market in the UK has grown significantly in recent years to a considerable market that serves over a million customers each year. 
As this market grows and develops, we are learning more about consumer behaviour and market trends. This information is important not only for businesses in the industry, but also for regulators.
As part of their 2019 study, the CMC conducted market research into the various factors surrounding the rapid rise of the CBD industry. 
They aimed to uncover the driving forces behind this growth by studying the changes that led to the market growth.
Let's take a look at what they found.
9. The UK CBD Market was worth £300M in 2019
CMC's research found that the total value of the UK CBD market had grown to £300M in 2019, with 1.3 million users. 
This is more than the combined value of the UK Vitamin D and Vitamin C markets, which were £145M and £119M respectively.
10. UK CBD Growth from 2018 and 2019 was up to 6 times greater than expected
Depending on the estimate, the UK CBD market was 3 to 6 times larger in 2019 than the previously forecast growth. 
For example, the Brightfield report predicted the industry would reach £100M compared to the actual figure of £300M. 
CTA predicted the market would have 250,000 users, compared to the actual figure of 1.3 million consumers.
11. The CBD industry in the UK is expected to reach a £1B by 2025
Latest predictions have the industry growing to a whopping one billion pounds by 2025. 
Although, if previous estimates are anything to go by, it could actually be a lot more than that!
12. 70% of British CBD consumers indicate systematic use
According to the CMC, around 70% of UK CBD consumers purchase CBD oil, tinctures or capsules in a way that suggests they are using these products systematically as well as a higher "therapeutic doses".
13. British CBD users spend approximately £25 per month on CBD products
The average CBD user in the UK spends around £25 per month on CBD products. 
Users who purchase tinctures, oils or capsules with a presumed systematic use and at higher "therapeutic doses" are spending more, about £55 per month.
14. Consumers prefer to buy CBD products online
Another finding of the study was that the majority of CBD products were being bought online. 
Surveys suggested that consumers seldom make in-store purchases even though CBD products are readily available in many pharmacies and supermarkets.
15. The UK CBD Industry is one of the largest in Europe
According to the CMC, the UK has one of the largest CBD industries in Europe. 
However, they also point out that the industry is completely centred around processing, as the raw ingredient for the product – hemp – is imported from the continent or elsewhere.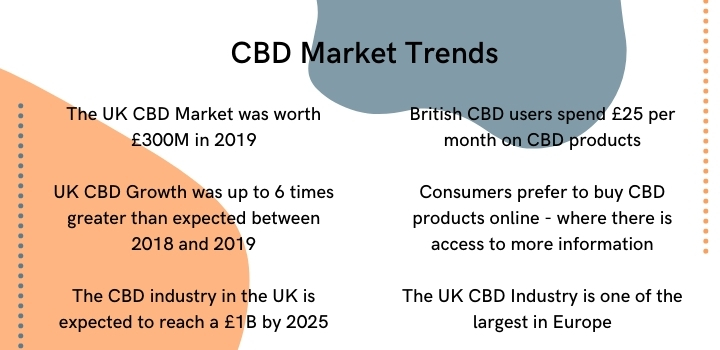 UK CBD Statistics: Product Quality
As part of the CMC study, the organisation carried out tests on over 30 CBD products which are available for sale in the UK, using PhytoVista and other reputable laboratories to conduct the tests. 
They sought to test the content, purity and quality of products in the UK CBD market. 
The results have strong implications for consumer rights, health and well-being, and even legality in some cases.
Independent testing provides critical insights into the quality of products being sold on the UK market. As you'll see in the statistics below, not all products are created equally. 
The content, quality and even legality of a product can vary greatly depending on the product process, care taken in manufacture and quality control.
16. Only 38% of CBD products were correctly labelled
According to the CMC's testing, only 11 out of 29 products tested, 38% of sample size, were accurately labelled for CBD, that is they were within 10% of their advertised CBD content. 
Another 38% of these products had less than 50% of their advertised CBD content. This included one product that did not have any CBD content at all.
17. 45% of CBD products tested higher than allowable levels of THC
In the same sample tests, more than 45% of the products had 0.04% of THC content, above the legal limit for CBD products sold in the UK. 
One product also showed a high ethanol content of 3.8%, making it officially an alcoholic beverage and unfit for general sale.
These figures underscore the importance of being careful when it comes to buying any CBD product. Mislabelling and poor quality control are unfortunately all too common in the CBD industry. 
However, as a consumer there are steps you can take to protect yourself.
For more on staying safe and ensuring you purchase quality CBD products that will deliver the benefits you're looking for, see our recent post on how to avoid CBD related scams and misinformation.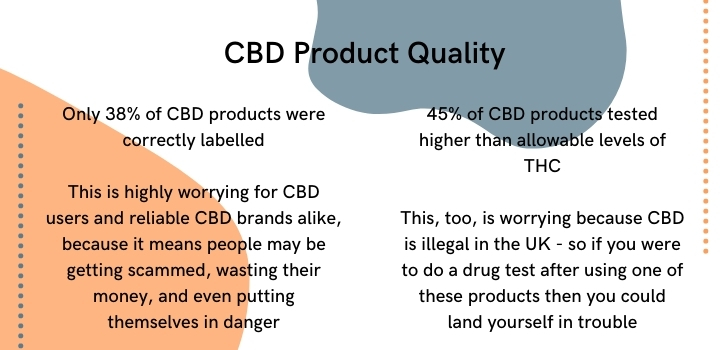 What's Next for the UK CBD Industry
UK CBD statistics reveal a number of trends and can allow us to make predictions about what the future may hold for the UK CBD industry. 
From the figures, it is evident that the UK CBD market is at an all-time high. 
There is a constantly increasing demand for CBD products in the British market. Moreover, consumers are increasingly willing to try these products. 
Users are also open to spending high sums of money on CBD products as part of investing in their wellbeing.
Future trends we are likely to see in the UK CBD industry include:
Exponential growth in both the size of the market and the number of UK CBD users in the next few years
An increase in product diversity, fierce market competition, as well as product imports and exports
Possible development of synthetic CBD production. However, there remain significant question marks around the quality and reliability of this production process and this requires further research
Probable increase in the organic CBD market as more consumers look for organic products
Law and general policy are also expected to develop in a positive direction as the UK government pays more attention to CBD policy.
Changes to UK laws will likely result in a more regulated and secure CBD industry, which will offer more protection to the consumer.
The respective jurisdictions of South Africa, New Zealand, as well as the Channel Islands, have adopted fresh policies towards their CBD industries. These countries are using CBD in different products and for varied purposes. 
This may indicate what is to come for the CBD industry in the UK, both in terms of regulation reform and new products.
Summing Up
Recent studies into CBD provide more clarity about the CBD market than ever. They reveal the extraordinary growth of the CBD industry in the UK.
As the market grows, safeguarding consumers will be more important than ever. It is critical that consumers are well informed about the CBD, its uses, risks and benefits. 
This will be the responsibility of law makers, as well as CBD brands and manufacturers to provide accurate information to their customers. 
It is also important that consumers educate themselves to avoid scams and make sure they buy the best product for them.
Download your FREE Buyers Guide for an introduction to CBD
We understand the importance of good information and educating yourself about CBD, and that's why we have this blog!
If you'd like to learn more about CBD, check out our blog, or buy CBD oil online with our 30-day happiness guarantee.