Relying on CBD for any form of treatment is not advised – so why are people turning to CBD oil for sciatica relief? Read more to find out.
Pain is a common symptom of many inflammatory issues. 
Inflammation causes swelling, pain and aches – all of which you should speak to a doctor about treating, especially if it is a long term problem.
Sciatica is one of the most common types of leg and buttock pain caused by inflammation of nerves supplying the leg.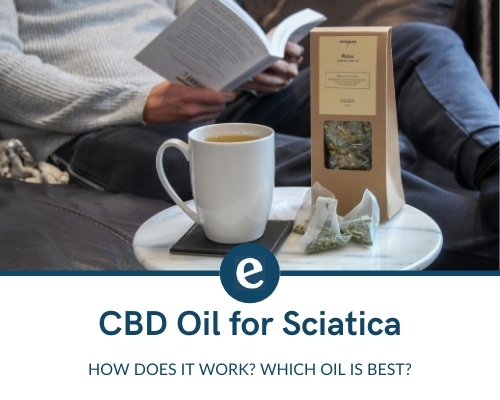 Around 40% of people suffer from sciatica at some point during their life. 
Most people leave the issue untreated, which can cause the condition to return. 
In this guide, we will cover:
What is sciatica

?

Can

CBD oil

help with sciatica? 

How to use CBD oil for sciatica

Which oil is best for

sciatica and back pain

?
CBD oil is a popular product for managing wellness, promoting better health, and restoring balance in the body. 
Balancing the natural processes within the body can help to restore wellness. 
So, today we are sharing how CBD oil may help your sciatica by boosting your overall wellbeing – let's dive in.
What is Sciatica?
The sciatic nerve is a nerve that runs from your lower back to your feet. When this nerve is pinched or irritated, it causes sciatica. 
The nerve irritation causes pain along the entire nerve. 
As a result, the lower back and legs become painful when a person suffers from sciatica. 
Secondary to that, the pain can radiate into the hips and buttocks. 
These affected areas will feel achy, inflamed, and painful.  
Without the right help, sciatica can last 4 to 6 weeks. In some cases or without any support, sciatica can last longer. 
Relieving sciatica pain is not an easy task. 
The best thing to do is speak to your doctor about treatment options and pain relief, or some people find that a massage helps.
Can CBD Oil Help With Sciatica?
CBD is an extremely versatile ingredient. 
Seeing as it can be taken orally or applied directly to the affected area, many people use CBD oil for many different issues.
It's important to remember, however, that CBD isn't a treatment for any particular issue and is only to be used to boost general health and wellbeing.
Sciatica affects nerves in the lower body, and sufferers may find it difficult to relieve pain and treat the issue. 
However, restoring balance in the body may make symptoms easier to manage, and may prevent issues arising in the future – because your body will be healthier overall.
CBD is not a medicine nor should it be treated as one. It should be used the same way that you take supplements. 
It simply works to aid better health and promote wellness.
However, CBD works closely with the endocannabinoid system which plays many roles in the body, including dealing with pain and inflammation. 
By interacting with the receptors and transmitting signals to the brain, you may notice that your overall health improves.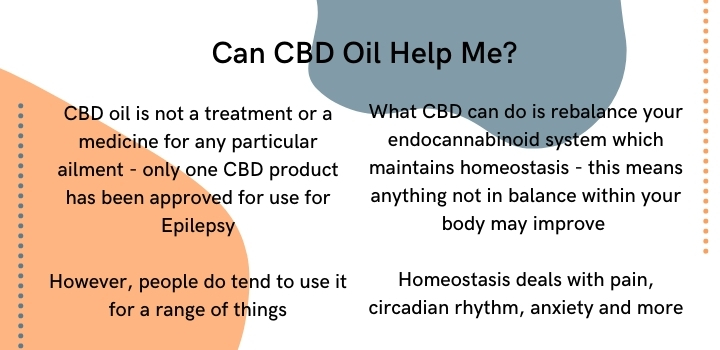 Why Should You Be Wary of Companies Selling CBD Oil For Sciatica?
Multiple companies in the CBD market claim to be selling the best product. 
Some even claim that they can treat ailments, which is not true. You should be wary of these companies that are claiming to treat your sciatica. 
CBD is not a medicine or treatment, thus it is important to be wary of companies making such claims. 
Instead, it is best to purchase CBD oil products from companies that claim to be able to aid general wellness and restore balance. 
These brands are reliable because they're not making false claim – unlike brands saying CBD is a miracle cure.
Other things to look out for include:
Independent lab test results
Ethical and sustainable business practices
Don't go for the cheapest product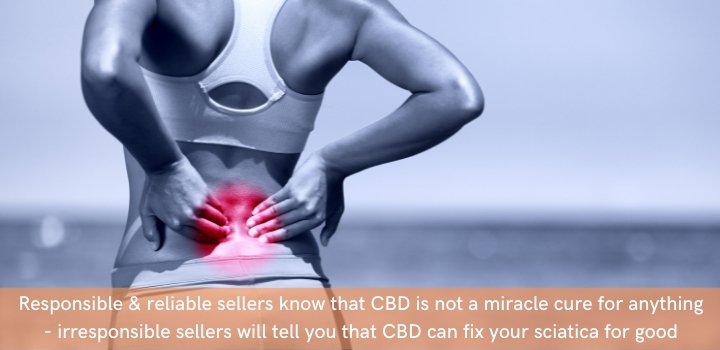 How Does CBD Oil Work?
Sciatica causes pain and inflammation. It can be caused by various factors from lifestyle choices to stress. 
CBD oil works with the endocannabinoid system to promote and restore balance throughout the mind and body.
The sciatic nerve becomes inflamed when it is under compression. When a person consumes or uses CBD products, the ingredients send signals to the brain to help rebalance the body.
The endocannabinoid system (ECS) is a system of cell receptors that contributes to homeostasis – the body's way of staying healthy and in balance. 
Signals are sent all around the body by this system.
The ECS also plays a really important part in the response to pain and inflammation.
When CBD is consumed, the cannabinoid receptors found within our bodies transmit signals and help to manage our wellbeing. 
The CBD oil will target affected areas to encourage general health and wellbeing. 
It cannot treat pain or inflammation, but has a holistic effect by approaching the whole mind and body as a collective.
Moreover, CBD oil can generate an overall state of relaxation for the mind and body – the opposite of which (stress) is a key factor in developing sciatica.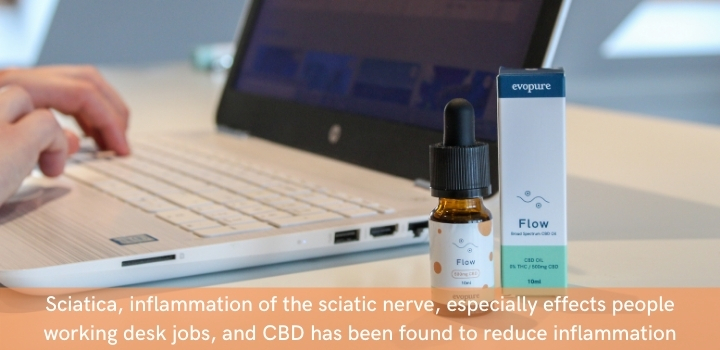 How Do You Use CBD Oil for Sciatica?
Dosages vary depending on the type of CBD product you choose. For oil, the typical dosage to begin with is 10 to 20 mg per day. 
Using it sublingually or directly on the skin should help manage and balance your wellbeing.
When you first start to use CBD, keep an eye on side effects – even though they are very uncommon.
There are various ways to use CBD oil for sciatica and encouraging your overall wellbeing, and each method has a different bioavailability.
A high bioavailability just means more of the CBD molecules are used by your body instead of wasted in the digestive process.
Sublingual 
A common way to use CBD oil is through the sublingual method. 
This offers the greatest bioavailability of all the methods, as it bypasses the liver and digestive system and directly enters the bloodstream.
If you do choose the sublingual method, these are the steps to follow. 
Place the CBD oil under your tongue using the dropper

Hold it there for up to 90 seconds

Swallow
Some people prefer to put the CBD directly onto the affected area, so they apply CBD topically instead…
Topical Balms and Creams
With oil, it is easier to adapt to how much you use due to its dropper applicator. 
You can apply your CBD oil product directly to your skin, but you may find that specific topical balms and creams are better for this.
Especially because these balms and creams often have other beneficial ingredients which can further encourage rebalance throughout the body. 
Simply massage oil or balm on the area that hurts and wash hands after use.
Edible CBD
One of the most common ways people take CBD is through CBD capsules, which can be taken the same way vitamins are taken. These are a great way to add CBD to your routine.
Mixing CBD oil with tea or coffee is a popular choice and an easy way to add it into your lifestyle routine. 
Alternatively, you can buy hemp teas directly.
Making CBD smoothies and shakes, CBD cakes, or CBD brownies has also grown in popularity in recent years as we learn more about cannabinoids and their properties.
However, because the CBD in edible products needs to be digested first, the bioavailability is lower – meaning you may notice fewer benefits than if you use CBD oil sublingually. 
Alternatively, you may need to use a higher dosage of CBD capsules or edibles to get the same results.
Vaping
Another method for consuming CBD oil is through vaping. 
This offers a good bioavailability, similar to the sublingual method, as the CBD molecules enter the bloodstream straightaway. 
You can't vape normal CBD oil products, because you have to get specific vape liquids.
During the heating process that CBD goes through when vaping, a lot of the other cannabinoids disappear – so you're left with CBD isolate. 
This isn't ideal for people wanting to experience the entourage effect from the other ingredients in typical broad-spectrum CBD products.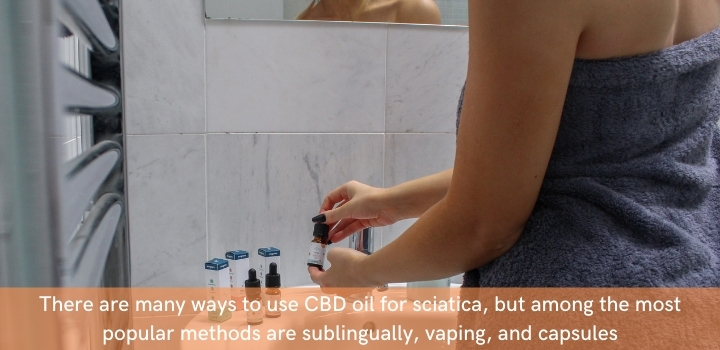 Which CBD Oil is Best?
CBD is available in numerous forms, including topical creams, capsules, and gels. 
But, a broad spectrum CBD as an oil form is the best choice due to its high efficacy and more comfortable use. 
The oil form of CBD, sometimes referred to as a CBD tincture, is extracted from hemp (or sometimes cannabis) and suspended in an inert oil, such as MCT oil. 
The reason for suspending CBD in a secondary oil is to preserve and enhance the CBD's life – without it, the CBD would also just be in a powder form.
The oil version is more versatile than gels and creams. Due to its dropper application, the CBD can be tailored to you, making it easy to adapt. 
Thus, you can consume CBD in varying doses instead of a set dose from a gel or capsule. 
The forms of CBD oil available are:
Broad-spectrum:

CBD, with all the natural cannabinoids, terpenes and flavonoids to contribute to the entourage effect, but with 0% THC.

Full-spectrum:

this is extracted from the hemp plant, has all the natural extra ingredients, but contains 0.3% or less THC. However, it will not offer the 'high' effect. 

CBD isolate:

this is a pure CBD oil that contains only cannabidiol from the hemp plant. 
When purchasing a CBD oil, it is good to look for those that are ethical, lab-tested, sustainable, and organic. 
These will be safe and more likely to offer results. 
Some CBD oils can be cheap, which will reflect their quality. It is worth spending a bit more money on CBD oil, because the brand will be cutting corners somewhere – likely in their independent lab testing or their extraction method.
Some cheap CBD oil will not contain much, if any, CBD.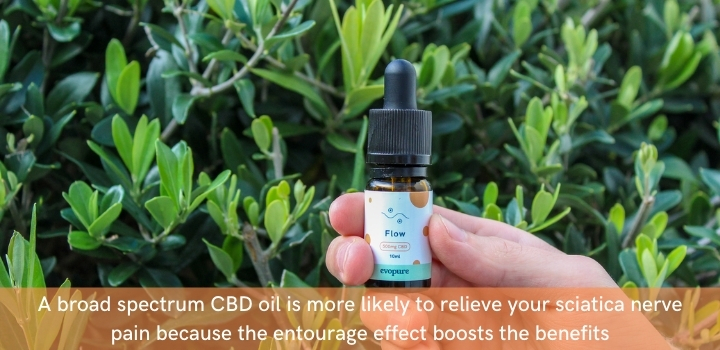 Final thoughts
Chronic back pain can be long-lasting without the right care.
Sciatica pain can go away without treatment – but it could get worse or simply return a month later.
The best way to approach sciatica pain is to improve your overall health and wellbeing to prevent ailments like this.
To restore balance and attain better health, CBD oil is a great option.
It is a safe, convenient, and versatile option to encourage wellbeing.
With easy daily use and various ways to use CBD oil, it can be effective for helping restore the body's natural processes to manage sciatica.
If you suffer from stress and lack of sleep due to sciatica, you may find CBD oil also helps to relax you.
Download your FREE Buyers Guide for an introduction to CBD
If you found this article useful, you might want to take a look at more articles on our blog. If you're ready to start trying CBD oil, we have a 30-day happiness guarantee when you buy CBD oil online from our shop!